Placing Your Order
This is my first time, how does it work?
Welcome! It's pretty simple. Most of our products are listed on our products page and you will be prompted by dropdowns for the different available options. If you don't see something you would like, feel free to request a custom quote, or email or call to speak with somebody about it. Once you have added the order to your cart, select your shipping option and pay. Once the payment is processed, you can upload or link to your print ready files. If you don't have print ready files, we might be able to do some basic layout work for you, or if you need a graphic designer, click here. Once your order is placed, you will receive a confirmation email. If we need adjustments to your files, one of our reps will contact you via the email address you provided.
Can I talk to someone in person?
Yes! Fill out our contact form to schedule an appointment. You can schedule an appointment to look at samples, discuss your project, and go over general print related questions. We don't give pricing or do graphic design during appointments.
Can you print sizes that are not listed on your website?
Yes. We only list standard sizes and products on our website. If you have a custom size, feel free to request a custom quote, or send us an email.
Can you print quantities that are not listed on your website?
Yes. Our standard price breaks are listed on the website, but we can print in between price breaks if that is what you prefer. Our minimum order size is 5 pieces per image on standard digital products. For gang run offset printing, we do not have as many quantity options. If you'd like a price for a quantity not listed, request a custom quote.
I have a custom project, how do I get a quote?
Can I have a proof before printing the full order?
Yes. We offer printed proofs on any standard, digital order. For more details on how proofing works, visit our proofing page.
Can I have a proof of my offset order?
Maybe. We can print Epson proofs for most single run offset orders. These act as a decent color mock up, but will not be identical to your final product. We do not print proofs of gang run offset orders.
What is the difference between digital and offset printing?
Digital printing is a method of printing directly from a digital image. Our primary digital press is a Canon varioPRINT iX 3200, which uses ink and has a very similar look and feel to offset printing. Digital printing can be completed in as little as one business day. Offset printing is a more traditional process that uses plates and inks to make large quantities (1000+) for low costs. There is typically a 4 or 6 day turnaround time for standard offset printing.
What is the difference between gang run and single run offset orders?
Gang run offset printing is a process in which multiple orders are "ganged" together onto a single plate and printed side by side on large sheets. This process keeps the price point very low, but it also increases the likelihood of some slight color shifting throughout the job. Single run offset printing is only one order per plate, which allows us more control and consistency, but is a more expensive process.
Where do I upload my artwork?
After you complete the checkout process, you'll be able to upload your artwork from the confirmation page, or you can go back later and upload it by accessing the order from the 'my account' section.
Do you store my files?
No. We don't guarantee that we will hold on to your files for reordering. Often we have them for a couple months, so ask us before placing a reorder.
Can I reorder?
Yes, you can email us to reorder, or give us a call if you are unsure of any details, but please check that we still have your files.
Can you print envelopes?
Yes. Envelope printing is an offset process with a typical turnaround time of 5 business days. We can print single or double sided, with as few as 1 color, and up to full color. For our standard envelope options see here, or request a custom quote.
Can I come make copies?
No, we print from digital files. We also cannot print while you wait because our machines work through a queue.
Will you print orders with illicit/NSFW content?
We will not print any hate speech or child pornography.
We review everything else on a case by case basis. You may have to sign a form. Contact us to inquire further. Generally we are pretty open minded.
Why does my saddle stitched book have to have a page count that is a multiple of 4?
Saddle stitched books are folded in half and bound in the center of the sheet. Each individual sheet has 2 pages of the book on both sides, making 4 pages total per sheet of paper. We cannot add half a sheet of paper into the book because that sheet would not be bound into the book.
Can I cancel my order?
We try to start production on your order as soon as possible in order to get it to you quickly. But if we haven't yet started, we may be able to cancel the order. Please email us to see if this is possible.
Papers
Can I provide my own paper?
In some cases we are able to print on custom paper, but we need to evaluate this on a project by project basis. Please contact us so we can discuss it further.
Do you have any paper thicker than what is listed?
We can print on paper that's up to 350 GSM. If you would like to go thicker, we can mount multiple sheets together to double or triple the thickness of your card. Request a custom quote here.
Which paper should I choose?
We have a number of papers available for you to choose based on your preference. If you would like more information on our papers, check out our paper options or request a swatch book.
What are all these large format options?
There are many options for large format printing. The 'art prints and posters' category is for high quality archival epson prints. These are printed on paper/canvas, which means they're not so great for outdoor use. Vinyl banners are a popular option for outdoor use. They have reinforced edges and grommets in all four corners and every 2-3 feet, and they can be rolled up and are weather proof. We can also print onto rigid substrates, like coroplast (corrugated plastic), which is a popular material for yard signs, PVC, and others.
What is the difference between coated and uncoated papers?
Coated papers are glossy and uncoated papers are more matte, allowing you to feel the texture of the paper.
File Setup
How do I set up my file?
There are guidelines and templates for setting up files for print under our resources section. We are happy to answer any questions you may have. We also offer layout and design services for a fee (contact us), or you can browse our directory of designers.
What file type is best?
In most situations, PDF and JPG are best for printing.
What is bleed?
"Full Bleed" refers to a print that has color to the edge of the print. To do this, we need 1/8 inch (.125 inches) of extra image space on your file that we cut off (like the crust of a sandwich). We call this extra space "bleed". The only situation in which we don't need bleed space is a print with a clean white border or white background on all 4 sides. Check our guidelines for more information on bleed requirements.
What is DPI?
DPI stands for Dots Per Inch and is basically the resolution of your image. We recommend 300 dpi for high quality prints. 72 dpi is common for web based applications and is not an appropriate resolution for printed materials.
What is the difference between RGB and CMYK?
Basically, RGB is used in applications that are backlit, like a computer screen, tv, or projector. RGB stands for Red, Green, and Blue, which when added up, make White. RGB is capable of a wide range of colors, including some neon colors. CMYK is used in printed applications. CMYK stands for Cyan, Magenta, Yellow, and blacK, which add up to Black. CMYK cannot print as many neon colors as RGB, which is why it is important to design for print in CMYK. Below is a picture to illustrate. In the top left is a .jpg of CMYK colors, top right is a .jpg of RGB colors, bottom left is a poster printed from the CMYK file and bottom right is a poster printed from the RGB file. You can see that the CMYK .jpg is very similar to the printed version. The RGB .jpg is very bright on the screen, but becomes dull when printed.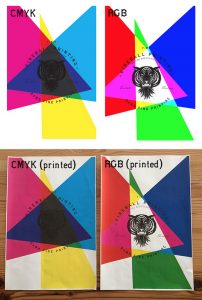 What are Pantone colors?
Pantone is a color matching system (known as the Pantone Matching System, or PMS). We have Pantone books available in our office with pantone colors that we can use to match with a full color (CMYK process) on our digital presses. For single run offset orders, we can use a Pantone formulated offset ink to print spot colors instead or on top of full color (CMYK) printing. For a project using offset printing with spot colors, you'll need to request a custom quote. If you would like to print specifically with Pantone spot colors, they should be designed in your file with swatches, not as CMYK colors.
Receiving Your Order
How long will it take to get my order?
Your turnaround time will vary depending on the type of order. Most standard digital orders have 1 business day and 3 business day options. Day 1 of your turnaround time is the day after you place the order. The cut off time for orders with a 1 business day turnaround is 3pm EST. The cut off time for all other orders is 5pm EST. All orders placed after their cut off times will be treated as if they were placed the following business day. For instance, if you order before 3pm on Monday with a 1 business day turnaround, your order will be completed on Tuesday. Orders that take longer than 1 business day will follow the same schedule, but with a 5pm cut off. If you need a different turnaround time than what's available, call or email us and we'll do our best to accommodate you. Once your order is complete, you can pick it up at our headquarters in Philadelphia or we can ship via UPS. The shipping time and cost is based on your location, weight and the speed at which you choose to ship. If you need to expedite the shipping, please let us know. If you include multiple products with different turnaround times in the same order, we will ship all products together, using the longest turnaround for all products. If you need some parts of the order earlier, please let us know. Additional shipping charges may apply.
When will my pickup be ready?
Pickups are typically completed in the afternoon of the last business day of their turnaround time. Plan on stopping by after 12 pm. We will also send you an email when your order is complete, and you can stop by anytime after that email, during pickup hours. If you need it sooner, please let us know ahead of time.
When can I come to pick up my order?
Our pickup hours are Monday, Tuesday, Thursday and Friday, 11am-5:30pm.
Can you rush my order?
In some cases we are able to rush your order to have it complete faster than the standard turnaround time. Depending on the job there may be an additional fee, but often times it is just a matter of whether or not we can fit it into an earlier slot in our queue.
What happens if my package was damaged in shipping?
We do our best to package our work so that it arrives to you safely. If your package is damaged, please start by sending us an email with photos of the damage to the prints and the box itself. Do not throw the box away yet, UPS may need to inspect it to process a claim.
What if there is a problem with my order?
We'd be happy to work out a solution with you. We want you to be happy with your order. Within three weeks of receiving your order, send us an email explaining the issue (please include photos of the issue) and we can work out the best way forward from there.
Why do my prints look different than my computer screen?
Colors can vary widely from computer screen to computer screen because screens typically are not calibrated. There is also a translation from how your computer screen understands color (RGB) to how a printer understands color (CMYK, see section on RGB vs CMYK). With all of those variables, the only way to really guarantee how your colors will turn out is to print a physical proof (see the section on proofing).
Other Questions
Our (mechanical, humanoid robots in the office) customer support team is happy to assist you however possible.
Is Fireball green and ecofriendly?
Yes! We're continually trying to find ways to be more environmentally sustainable. All of our digital paper is FSC certified. We have recycled papers available and recommend them whenever possible. All of our paper scraps are recycled. The cardboard boxes, kraft paper, and plastic bags we use for packaging are all made from 100% recycled materials. All of our shipments are carbon neutral. Our delivery car is a hybrid. And we specialize in fast, local printing, which saves a lot of carbon emissions.
How do I get a job with Fireball?
Feel free to send in a .pdf resume via email. You can check our jobs page to see if we have any open positions.
Can you donate prints for my project?
Maybe! Please submit a request through one of the forms on our donation page and we'll see if we can help!
How does the refer a friend discount work?
Tell all your friends about us! When someone you referred places their first order, they can let us know in the check out that you sent them to us, and we'll email you a discount code for 20% off standard digital printing.
I am ordering for a PA nonprofit, how can I remove the tax from my invoice?
Please send us a rev-1220 form, complete with your PA sales tax exemption number. If you need a rev-1220, download it here. Once we have your completed rev-1220, we can change your account so that your orders don't include tax.
Can I pay you with a check?
We do accept checks, however we require payment in advance except for approved clients. If you would like to be considered for Net30 status, contact us.
Are you guys Masons?
No. We just like the aesthetic of Masonic imagery. But we have no connection to the Free Masons (Or Beyonce. Email us if you can connect us to Beyonce.)
You guys are so cool/helpful/good-looking. How can I tell the world?
I'd like to tell the world about Fireball. Do I get anything in return?
Yep. Tell your friends. Tell strangers on the street. When they place their first order and include your email address in the referral section at check out, we'll send you a code for 20% off any digitally printed order.